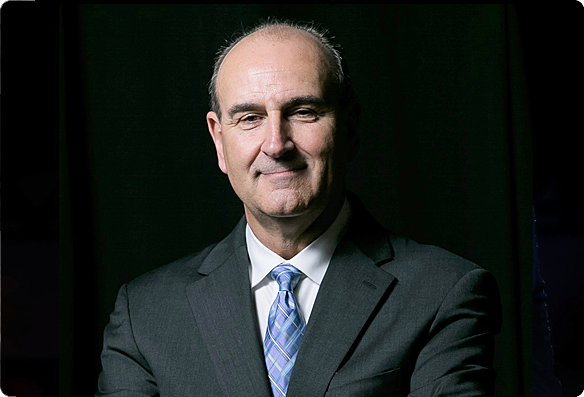 About John Mattone
John Mattone is the world's top executive coach and the co-founder of the Intelligent Leadership Executive Coaching (ILEC) Franchise. In 2017 and 2018, the research organization, Globalgurus.org recognized John Mattone as one of the top three coaching authorities in the world alongside Tony Robbins and Marshall Goldsmith and, in 2019 and 2020, he was awarded the prestigious world's #1 coaching authority ranking. John was also a finalist for the 2017 Thinkers50 Leadership Award recognizing the world's top leadership authority and thinker.
John Mattone is the creator and master of the unique & game-changing Intelligent Leadership Executive Coaching (ILEC) blueprint for success – accredited by the International Coach Federation. Since 2017, John Mattone has personally coached and mentored over 450 global executive coaches from 52 countries in his proprietary ILEC philosophy, process, and tools. John Mattone is the former executive coach to the late Steve Jobs and the former legendary CEO of PepsiCo, Roger Enrico.
John has been recognized and featured by the WSJ, Forbes, CNN, Fast Company, Entrepreneurs Magazine, Globalgurus.org, Thinkers50 and many other respected research and news organizations as one of the top leadership & executive coach authorities in the world. He serves on the executive MBA faculty at FAU and is a Distinguished Senior Fellow at the Hult International School of Business. John has a B.S. Degree in Management & Organizational Behavior from Babson College and a M.S. Degree in Industrial/Organizational Psychology from UCF.
John is the author of nine books, including four best-sellers: Talent Leadership, Intelligent Leadership, Cultural Transformations and The Intelligent Leader (October 2019: #1 Amazon Best-Selling New Release; 52nd Best Leadership Book of All Time-Bookauthority.org).
Always wanting to help others and give back, John has created an annual scholarship, the John Mattone Endowed Graduate Scholarship Fund for Executive Coaching and Leadership at the University of Central Florida (UCF).
A Word from John
"I see ILEC as filling a massive void in the world of executive coaching. All ILEC Coaches are Master Certified Intelligent Leadership Executive Coaches. They have achieved their distinguished certification by successfully passing 6 ILEC training programs all approved and accredited by the world's #1 coaching governing body, the International Coach Federation (ICF). In addition, all ILEC Coaches bring significant senior executive experience to their client engagements. ILEC Coaches have a strong and authoritative pedigree, however, they are real people who have achieved real results in their businesses and lives and, they are passionate about helping their clients achieve the same. They are experts in applying the ILEC philosophy, process, content and tools needed to help you and your organization develop stronger leaders, accelerate the development of high potentials and millennial emerging leaders, and help you build and sustain a culture that everyone is proud of. These are the keys to every organization becoming successful and staying successful."
About Terry Powell
Terry Powell is the Founder and Visionary Game Changer of The Entrepreneur's Source® (ESource), a 36-year-old world-class franchise career ownership coaching™ organization. ESource disrupted the franchise industry in 1984 and transformed the conventional thinking behind career ownership coaching™ for aspiring entrepreneurs and business owners.
In 1998, 14 years after he launched ESource, Terry recognized the need to franchise his concept. Today through a transformative self-discovery coaching experience, Esource coaches have assisted tens of thousands of individuals in North America go from employment to empowerment through business ownership. Those thousands of clients have invested more than $1 billion in over 600 franchised businesses across 85 industries.
At his core, Terry Powell is a serial entrepreneur. Ever since he started his first business at the age of 16, Terry has never looked back. As a Franchise Thought Leader he continues to apply his knowledge and experience in the entrepreneurial community by impacting others through coaching. The company's coaching methodology and success has been widely publicized in numerous media, including The Wall Street Journal, CNBC, ABC, Fox & Friends, and Bloomberg TV.
Throughout its 36 years, The Entrepreneur's Source® has been an active advocate of the International Franchise Association (IFA), along with Terry's multi-brand franchise organization, Franchise Source Brands International (FSBI), and continues to sponsor FSBI team members for their CFE continuing education. Terry is also a strong supporter of veterans and works closely with several organizations, including the IFA and Small Business Association (SBA) to help them increase their education programs on franchising for military veterans.
A Word from Terry
"There is a growing need for this type of executive leadership coaching," says Powell. "Experienced leaders are leaving companies at an ever-increasing rate. The younger leaders replacing them may have the skills to do the job, but lack knowledge on how to inspire and motivate the team they suddenly have looking to them for leadership. ILEC's coaching supports leaders facing three key challenges. Organizations are more vulnerable than in the past due to fast-moving shifts in business models and major disruptions as a result of uncontrollable circumstances. In turn, company culture feels the impact as unanticipated change infiltrates organizations and demolishes employee engagement. The third key challenge businesses face today that ILEC solves is leadership development. With a robust millennial workforce replacing many boomer-generation professionals, a lack of leadership training has resulted in management that is not adept at leading people and teams".
---
"The ILEC Family—our franchisees, clients and headquarters team are privileged to be able to work together with passion and deep pride in order to change the world one leader, one organization at a time"
— John Mattone & Terry Powell